SERVPRO's Standard Mold Damage Remediation
3/8/2021 (Permalink)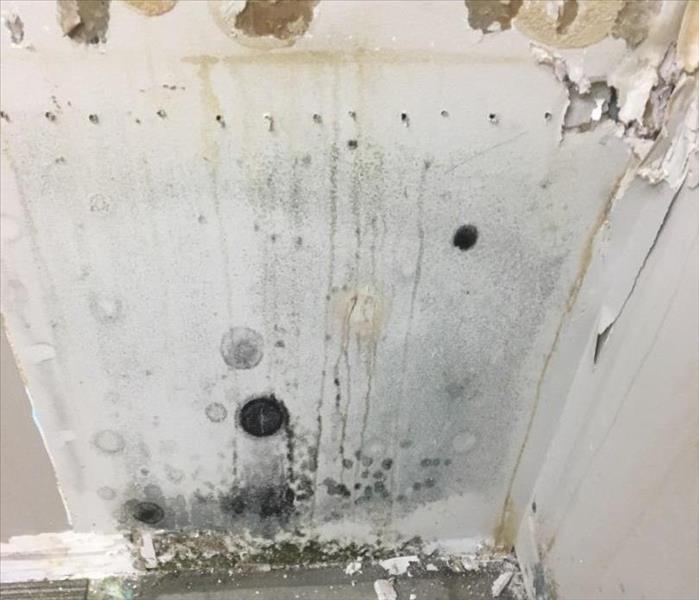 If a preexisting water damage in your Clark County home has caused mold--Call SERVPRO for Remediation.
Getting rid of mold can be a frustrating task. If you attempt to do it yourself, expect to get plenty of conflicting advice. Without any forewarning, the mold can reappear or show up in another area of your home. Mold remediation is a job we train for and improve our practice with every project we take on. Let us help you with your mold problem.

When our mold damage remediation crew arrives at your Clark County home, our project manager takes a close look not only at the mold you located but also for any evidence of past or present water intrusion or damage. Mold spores require a source of moisture to grow and multiply, so finding the water pathways helps us find not only the visible mold but also leads us to other places, often in recessed areas, where mold is growing. Failing to remove all active mold growth risks a fast recurrence.

SERVPRO follows the Environmental Protection Agency (EPA) protocols for mold remediation. After we determine the extent of the mold damage, we take steps to contain the area. Crew members set up physical barriers with heavy plastic sheeting, and also employ negative pressure air scrubbers in more severe cases to prevent drift of moldy debris into unaffected areas of your home. The air scrubbers use HEPA filters to catch airborne residues and a suction-like process to keep all contained. Our crew members wear personal protective gear in the containment area for their own safety and to limit the tracking of moldy materials into other areas.

Once containment is in place, the SERVPRO technicians use primarily mechanical means to remove the mold. Scraping plus spray and wipe techniques work well for solid, non-porous surfaces. Heavily infested porous materials might need to be cut out and removed, but we also have success using abrasive techniques like soda blasting to remove mold hyphae even from porous surfaces. This method works very well on raw timber found in attics and crawlspaces.

Our technician's bag the mold debris, including building materials removed because of severe contamination, and dispose of them according to local hazardous waste rules. SERVPRO then vacuums up the remaining debris and treats the affected areas with EPA registered antimicrobial products to inhibit future mold growth. We strongly advise the moisture issues that fuel the mold growth be resolved as we cannot promise to remove all mold spores.

When seeking out a reliable mold remediation firm in Pleasant Grove, you cannot go wrong with the work ethic and skill of SERVPRO of West Vancouver/ Clark County. Call us at (360) 254-0049 for a consultation and remediation plan if you even suspect mold growth in your home.