Commercial Damage Have you Puzzled?
6/9/2022 (Permalink)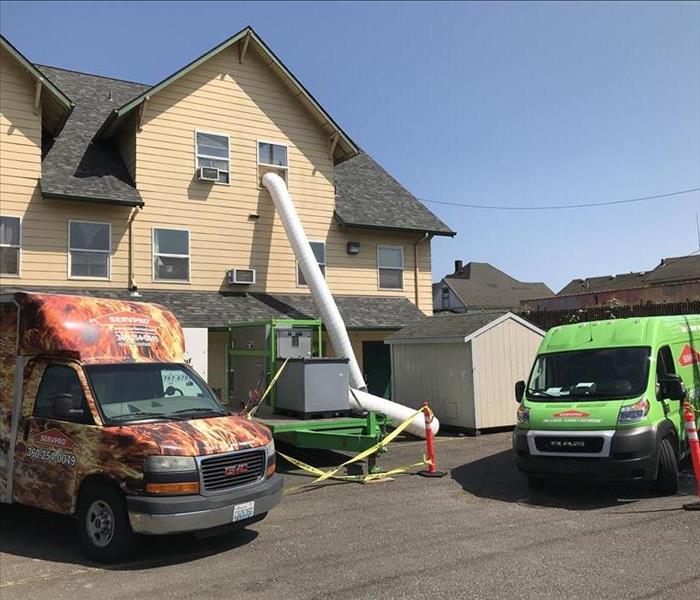 Remain positive and hopeful because SERVPRO of E. Vancouver is here to help 24 hours a day, 365 days a year!
Natural disasters can cause significant and costly damages to homes, roads and, of course, local businesses. While you should always be prepared for such events, by maintaining adequate insurance coverage and secure file backups, you sometimes get little warning before disaster strikes. And if something happens, you'll want to get your business back up and running as quickly as possible.
Unfortunately, the road to recovery isn't always easy. A previous article about recovery from 2012's Superstorm Sandy reported that just 25 percent of small businesses had backups of critical programs and data before the storm, and even fewer (20 percent) said they had protected their buildings from the storm or prepared emergency survival kits.
Execute your business continuity plan
Your business continuity plan should prepare you for major disaster scenarios, such as the loss or unavailability of IT systems, key people or a facility third party. Make sure key personnel will have access to the plan on secured mobile devices immediately after a disaster.
Don't have a business continuity plan?
Check your backed-up data
You should have already backed up and safely stored your most critical data: your business license, major contracts and legal documents, tax returns and financial statements, and other critical business and customer documents. Following a disaster, make sure your vital records are still securely accessible from the devices you're using.
Communicate with your employees and external parties
Leverage your website, social media channels and text messaging to reach your employees, customers, partners and vendors. Reassure your customers that you're still in business, while making sure that no communications will inadvertently create legal liability or adversely affect service-level agreements.
Contact your insurance company
Once you and your employees are safe and accounted for after a disaster, survey the damage. Contact your insurance company to file a claim. You should always do an occasional check-up to ensure you have adequate coverage for major disaster types, including cybersecurity insurance. Office break-ins and vandalism may occur during a disaster, and if someone steals computer equipment or paper documents containing personally identifiable information, and the information was not encrypted, you may have a legal requirement to notify your customers. To be safe, encrypt your customer data, digitize paper documents and store all critical data in a secure, cloud-based document-management system.
If your insurance doesn't cover the full cost of the damage, you may be eligible for a disaster loan from the Small Business Administration of up to $2 million. The SBA may even provide working capital loans, even if you didn't have any property damage.