Contact SERVPRO For Your Water Damage Remediation Needs In Vancouver
6/15/2019 (Permalink)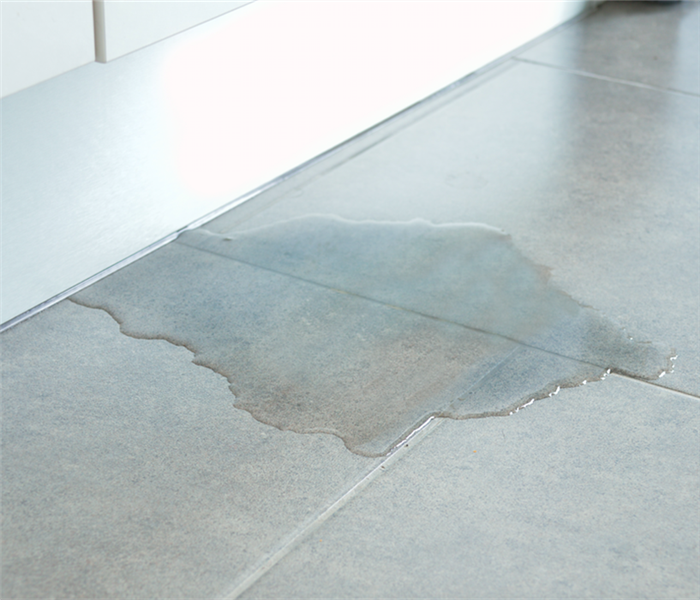 A slow leak in a pipe in your home can cause this type of water damage. Contact SERVPRO today for remediation assistance.
Water Damage Remediation in Your Vancouver Kitchen
The cleanup of water damage incidents in your home should never be a DIY event when the scale of the damage could compromise other areas such as subflooring or in wall cavities. If inadequate cleanup or drying measure occurs, the excessive moisture has the potential for mold growth or foul odors.
SERVPRO technicians answered a call from a Vancouver homeowner with a water damage issue in her home. There was a slow leak for a while with a supply line connection, and it finally burst under her kitchen cabinets. She cleaned up what she could, had the leak repaired and then was advised by her adjuster to call us. We drilled weep holes in the wet sheetrock to assist for faster drainage and because of the elevated humidity levels in this area of Washington State, checked for signs of mold growth. Fortunately, we found none.
We then used our moisture detection equipment to track the migration pattern of the water in the kitchen. The homeowner did an excellent job removing the water she could see; however, our equipment showed excessive moisture levels remained under the cabinets where the leak occurred. SERVPRO technicians go through extensive training to become certified in different restoration science, among them Water Damage Restoration Technician (WRT) which gives them the expertise to diagnose and clean up damage from water loss events which results in more contents and building materials saved through restoration.
Because water remained under the cabinets for a few days, a strong odor remained in the room after the water extraction and drying. We needed to apply odor control techniques to neutralize the odor.
The control of odors is often a multi-layered process that requires more than a single approach. Gels pellets cover pungent scents, but in the case of water odors, these sometimes need more robust applications. We have equipment such as hydroxyl generators that neutralize airborne particulate at the molecular level. We chose to use ultra-low-volume fogging to eradicate the remaining odor under the cabinet area.
SERVPRO of W. Vancouver / Clark Co. stands ready to assist property owners with water damage 24/7. Call us at (360) 695-4418 for fast remediation against water loss to make it "Like it never even happened."
Click here to see more about Vancouver.